Before purchasing your next smart device it is a good idea to research about the benefits and drawbacks. When looking for a computer, apart from laptops, tablets are also increasingly popular.Leading companies have made a place for themselves in the market with high-end powerful devices such as Apple with its iPad Pro.  And so here are some comparisons between the good old laptop and the high tech tablets that will allow you to make an informed decision
1. Portability
In terms of portability tablets are definitely the wiser option. If your main concern is having to carry around a device everywhere you go, then a tablet will prove more suitable. Tablets are usually between 7 and 11 inches while a laptop will be between 12 and 16 inches. However one important factor you need to consider here is the model. Certain laptops are small and light, while there are also certain tablets in the market that are heavy. When making the decision, be sure to check the size and weight of the device you want to purchase.
2. Performance
In comparison to tablets, laptops will provide you with an advanced performance. This is because, since they are larger, their hardware is designed in a way that they perform better. A laptop also allows for multitasking which is more difficult in a laptop. However there are certain tablets that allow for this too. If this is something you require, then be sure to check this feature.
3. Battery
Tablets have a longer battery life as compared to laptops this is because they are smaller. The battery does not have to power as much hardware as compared to the laptop.
There are laptops which are more expensive and have a longer battery life, however you will be paying far more than you would have to if you purchased a tablet with the same battery life. So if charging is a major concern then a tablet is what you're looking for.
4. Storage
A popular device in the market, the iPad Pro has a 32GB internal storage, which is miniscule compared to an Apple laptop. Even though tablets provide more  storage space, a laptop will still offer even more than that.
5. Keyboard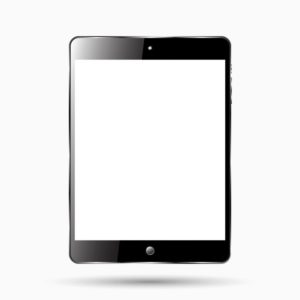 A tablet has a touch screen keyboard which for many is their favorite feature. However, for others who are not into the habit of typing on a touch screen keyboard, this will be a real challenge. If you are typing a long document, you might get tired of the glass screen. You will miss your good old keyboard. So if you are leaning towards buying an iPad we would suggest you either get a keyboard you can connect to your tablet via Bluetooth or you simply try and get used to the touch screen keyboard over time.
Whether you choose a laptop from the Apple range like the latest MacBook Air or MacBook Pro or if you choose the iPad Pro, be sure to care for your device the right way. And by that we mean that at times when you require some software to be installed, or if your device is in need of repair services like laptop repair service or LCD screen repair, you can't just hand it over to anyone. Be sure to contact a professional technician that will know exactly the kind of service your device needs.
Rockland County Computer Repair is a reliable service that provides you with the best quality of repairs and that too at reasonable prices. No matter what device you own or what brand it may be, we know exactly what to do.